Pai Gow Poker
Pai Gow is another popular form of banked Poker gameplays for those who want to try their luck against a dealer. Pai Gow Poker is one of the Pai Gow tiles variations using a 53 card deck instead of the domino looking tiles.
Invented back the 1980s, the game constantly increases the number of its fans. Its inventor Sam Torosian, though, wasn't as successful as its gambling invention. Sam became a sort of a "bad legal advice victim", and didn't patent his game. While millions of players tried his Pai Gow Poker, only a tiny number of them recognizes the name standing behind the game itself.
Pai Gow Poker isn't that demanding, and with just a bit practice, it won't take that much to beat the dealer. In the beginning, though, understanding its basics may be a tricky task to complete. To ease your way, we've got you covered with Pai Gow Poker rules, rankings, and its variations. Pai Gow winning strategies – all discussed below in the post.
Best Pai Gow Poker Casinos in Singapore
Pai Gow Poker Rules
Pai Gow rules stem from both classic Pai Gow tiles and its counterpart, Poker. This Poker variation is a great alternative for gamblers who prefer betting in a slower-paced environment.

If you have got a misleading impression that the game is difficult to play or simply don't know how to play Pai Gow, let us discuss the rules so that you would be on your way to playing for real money.

Quick rules for the game:
Unlike classic Poker, Pai Gow Poker is played using a French deck with 52 and one Joker card.
All players play against the bank. In the first session, the dealer performs the bank role, then each of the players periodically takes this role.
Once the players have made their bets, each player (including the dealer) is given 7 cards.
Players and the dealer need to divide their cards into 5-card and a 2-card hand. The trick is that you need to split them in a way that beats the dealer's hands.
Pai Gow hands are ranked according to a standard ranking hierarchy.
At the end of the game, the cards are then opened and weighed. The player with the strongest card combination in both hands wins.
Note that the Joker can be a straight or a flush, in all other cases, it represents only an ace.
Just keep in mind that the dealer always wins a tie.
To beat the banker, make sure you have not neglected your shorthand. Many beginners do that and get very disappointed when they lose even with an outstanding 5-card hand. This game is slightly different from other Poker variations, and it wants you to consider combinations in both short and long hands. To start your way, follow the two basic tips below.
First, imagine you've been given a full house with your initial 7 cards. The difference between the novices and the experienced players is that the first ones would keep the full house and separate the remaining 2 cards; meanwhile, a more experienced player would break the full house and move the pair to his/her shorthand.
The second situation arises if you deal with two pairs. Although you will be tempted to keep both of them within a long hand, you need to split them. If you won't, you are 99% promised to call for trouble as the dealer will win your 2-card hand with ease. You will end up losing one hand or even both (remember several 5-card hand combinations will outweigh two pairs).
Because you're playing against the dealer, here are only three possible outcomes of the game:
If you lose both hands, you lose your bet too.
If you win one hand and lose one hand, you will end up with a push. Push means you will have your bet returned to you.
The third scenario assumes you win both hands. Doing this, you will be paid 1:1 on your bet.
Pai Gow rules are almost identical whether you play Pay Gow now online or in one of Singapore's brick-and-mortar gambling houses.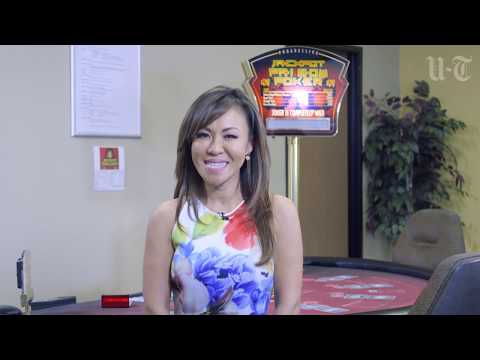 Hand Rankings
As discussed in the previous point, players start their game splitting 7 cards into two separate hands; the one with 5 cards and the one with to cards. Let's start with the latter.
Small Hand
The best you can have here is two Aces, either an Ace and a Joker. The next position takes a pair of 2's. If you don't have a pair in your 2-card hand, a higher card wins. Pretty easy management system, agree?
Big Hand
As you might have expected, things get a bit more complicated with the 5-card hand. Below, we supply you with combinations in descending order of value. As you will see, casino games Pai Gow are almost identical to the traditional Poker's scheme.
Five of a Kind = 4 Aces + 1 Joker
Royal Flush = ten, Jack, Queen, King, Ace/Joker of the same suit
Straight Flush = 5 of the same suit in sequence
4 of a Kind = 4 of the same denomination
Full House = 3 of one denomination + 2 of another denomination
Flush = 5 of the same suit
Straight = 5 in sequence, the suit doesn't matter
3 of a Kind = 3 cards with equal denomination + 2 unmatched cards
2 Pairs = 2 pairs of 2 same cards
1 Pair = 2 of the same denomination + 3 unmatched cards
High Card = the highest card from the 5 unmatched cards
Winning Condition
The winner is determined by comparing both hands of the player and the banker according to the ranking hierarchy of Poker hands. Winning conditions are equal for a player and a banker. To win, any of them needs to win both hands of the competitor. If a player wins one hand only, the game ends with a draw. And it doesn't matter whether he/she wins a big or a small hand of a banker – the outcome remains the same.

However, if both of the banker's hands are the best of yours, then you lose your bet. You also lose the bet if you tied against the banker. This is one of the ways how the Pai Gow Poker house edge is retained.

Play as a banker as soon as you get such an opportunity. The reason is obvious – the banker has a higher chance to win than the rest of the players. However, before you decide to be a player-banker, you need to make sure you have enough SGD on your bankroll because you need to cover the stakes of all players participating in this session.
Pai Gow Poker – House Edge
Pai Gow Poker has a comparatively low house edge, which is about 2.8%. Nearly all online casinos have a 2.84% house edge set. When the player uses the optimal strategy in a heads-up game with the dealer, the Pai Gow odds for this player winning become higher. If there are several players at the table, this percentage can slightly change both in one direction, depending on your competitors' experience.

The casino dealer acts as the banker for the very first game. Further, this role is transferred to the player sitting to the right of the dealer. If he refuses to play for the bank, then the person sitting next to him can play for the banker.

At the end of the game, the casino collects a 5% commission on each winning player's bet. Some casinos, though, prefer not to set this 5%-commission. In this case, the banker has only a 1.3% advantage.
| Hand | Payout | Envy Bonus |
| --- | --- | --- |
| 7 Card Straight Flush | 8000 to 1 | $5000 |
| Royal Flush and Royal Match | 2000 to 1 | $1000 |
| 7 Card Straight Flush w/ Joker | 1000 to 1 | $500 |
| 5 Aces | 400 to 1 | $250 |
| Royal Flush | 150 to 1 | $50 |
| Straight Flush | 50 to 1 | $20 |
| Four-of-a-Kind | 25 to 1 | $5 |
| Full House | 5 to 1 | |
| Flush | 4 to 1 | |
| Three-of-a-Kind | 3 to 1 | |
| Straight | 2 to 1 | |
Pai Gow Poker Variations
As soon as Pai Gow Poker became a part of online casinos, game developers didn't waste their time and soon developed some great new alternatives. Some of them allow players to win major cash prizes along with having an exciting gameplay time. Over the year, these variations evolved to great numbers, but we will discuss the most common and popular ones. These are:
Fortune Pai Gow.
Allows betting on a player that will make trips, straight, or better. In this game variation, players can make an optional Fortune wager and 1 SGD as a progressive fortune wager.
Pai Gow Mania.
Players are allowed to make two side bets – one on the first three cards and one based on seven cards.
Emperor's Challenge.
Very similar to Fortune Pai Gow, rewards players with hands with no flush, straight, or pair.
Although all of the reviewed titles are different, they are all based on very similar tweaked rules. The three we have discussed are maybe the most exciting game modifications to ever appear in any Singapore casino house. Add a low house edge and honest Pai Gow payouts to this point, and you'll catch why gamblers love Pai Gow Poker game so much.
Pai Gow Poker Strategy
If you don't apply a strategy and prefer gambling "by chance", the house edge of Pai Gow Poker is 2.84%, and it's even higher than the European Roulette (2.7%).

To avoid any foolish mistakes during the game and to increase your chances for winning, you can apply the optimal strategy. If you adopt it, the house edge will drop to 2.5% approximately.

Pai Gow online optimal strategy is quite straightforward and easy-to-follow. It all lies in how to separate cards properly and set winning hands.

In most online and real casinos, the player can ask the dealer to split his cards according to house rules that are fairly close to optimal. In fact, there are a number of simple rules that will bring you close to the optimum:

You have no combination: leave the highest card on the upper hand, the next two – on the lower hand.

One pair: leave a pair on the big hand and two of the highest remaining cards – in the small one.

Two pairs: split two pairs into one pair for each hand. An exception is set only for pairs with jacks or tens – don't separate them if you have an ace or a King for your low hand.

Three pairs: place top pair in the small hand.

Three of a Kind: leave a three at the top, two high cards on the bottom hand, with the exception of three aces: two aces remain on the top hand, one on the bottom hand.

Two threes: place a pair from the higher three in a small hand.

Straights and flushes: keep straights and flushes if there is no double pair; otherwise divide combinations according to the rules of two pairs.

Full house: three of a kind should remain in the big hand and a pair goes for the low hand.

Four of a kind: four of a kind from two to six – do not divide; from seven to ten – divide if there is no King or higher; from Jack to King – split if there is no ace or higher; the ace of four – split if there is no other pair.

Five aces: split them into three of a kind and a pair unless your five aces are accompanied by a pair of Kings. The rule of thumb says that 5 aces can stick together in your big hand only if you have a pair of Kings in the small hand.

By following this strategy, you will maximize the potential chances of winning high and low hands in the same game session.
Pai Gow Poker Side Bets
With just a bit of practice, you will quickly learn how to set your hands to win. After you do this, another must-be-tried thing is the side bets. You've probably already seen your co-players setting side bets, and they do it for a reason. Side bets add a jackpot element to the game and can multiply your winnings in the end. But first, let's uncover what Pai Gow side bets stand for.

The first thing you should know is that side bets neither add nor detract from the bets placed for the hand. Instead of that, the player can make extra bets on whether he/she will get a royal flush, straight, four of a kind, or three of a kind. The higher the hand – the higher the potential bonus payout.

Side bets payout doesn't have anything to do with payouts from your major bets. The first is paid either you've got a winning or a losing hand outcome. Side bets add a thrill to the game and make it possible to get some big wins. For instance, if your side bet for a 7-card straight flush was a success, your payout is 8,000:1.
Pai Gow History
Pai Gow中文 is a very old game with Chinese roots. Initially, the game based on domino tiles, and for this reason, it had a bit complicated rules for players. After the tiles are split into four groups, the dealer rolls the dice to choose which player gets the tiles.

The early game was adopted to several different styles, each coming with slightly changed rules. After the rules were changed one more time in the 19th century, the Pai Gow became a top-popular Chinese game again. We don't know the exact changes that were made, but we know that updated rules have brought ever-growing popularity to the game.

Over time, Pai Gow Poker entered the gambling market. As you see, Pay Gow Poker originated from an alternative version of traditional Pai Gow Chinese dominoes. With only one difference – it should be played with cards rather than tiles. The first sessions were played in the Bell Card Club in 1985, after the casino owner, Sam Torosian, created this type of Poker.

Despite some superstitions claim that Pai Gow Poker was invented in China, just as its original domino version, the truth is far from that. In 1985, the owner of the Bell Cards Club in California wanted to save his land-based casino from a bankruptcy. Sam wagered on mixing Asian and American gambling cultures and won a jackpot. At least, in terms of Pai Gow Poker popularity – you can access Pai Gow Poker play online from wherever you are, either it is Las Vegas, Singapore, or Atlantic City.
Pai Gow Tiles
Pai Gow tiles allow up to 10 players. Just like its Poker modification, one of the players acts as a player-dealer. Players are given 4 Pai Gow tiles out of 32-tile stock. Those 4 must be arranged in two hands – a high hand and a low hand. After players do this, they display their arranged tiles, and the dealer arranges player-dealer tiles.

Then, the hands of players compete against the dealer's hands. The lucky winner is the one who beats both hands of the dealer. The dealer wins if hands beat those of the player. All other outcomes are nothing else than a push.

FAQ
What the most popular type of Pai Gow Poker?

Although there are many Pai Gow Poker variations, the most popular among online gamblers continue to be a Fortune Pai Gow Poker.

How do you win in Pai Gow Poker?

Players can win only if card combinations in two of their hands beat two hands of a dealer.

What is the house advantage in Pai Gow Poker?

The Pai Gow house rules against a player who doesn't act as a banker for other players is 2.84%. The house edge for the player banker is 1.4%.

Is it safe to play Pai Gow Poker online for real money?

Yes, it is totally safe. Just as numerous other gambling offerings, Pai Gow Poker is available in many online casinos while its safety and security for players are maintained on the same level as if they were playing in one of the Singaporean land-based establishments.