Baccarat by Pragmatic Play in Singapore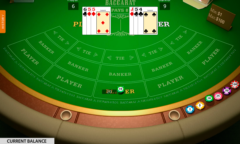 Baccarat Pro by Pragmatic Play Review
This version of Baccarat from Pragmatic follows the regular rules of this popular table game with its 8-deck card and two betting options: Player or Banker. Ace is worth 1 point while the other cards are worth their face value. Because the idea is to get as close to 9 as possible – or get a nine to make natural Baccarat, anything over this number is subtracted from the overall number of points. If a hand is worth between 0 and 5, a Player gets dealt another hand, while the banker receives a third card depending on the value of cards held by Player position.
Baccarat Pro by Pragmatic Play Features
There are three bet options: Tie, Banker or Player, that the player is supposed to select at the beginning of the game. Each has its RTP, but you can still bet on all three. Bet chips are valued at 1, 5, 10, 25, 50, and 100, and the minimum value of each is $10, while the maximum is $100. You can bet all three options in one round to be paid 1:1 when the cards are dealt. Payment is almost immediate since once you hit the "Deal" button, there is no taking your options back. After, you can either place a New Bet, Rebet the last option, or Rebet X2 to double your previous position.
The gear icon on the bottom left opens up a range of options. You get to choose whether to keep audio on or off, and here is where you also select the preferred gender of your dealer. Turbo Mode changes the speed of the game while a panel on the side allows you to switch the color on your gameplay between red, green, black, and blue. Apart from Turbo, you have a 20-hand history that you can turn off at will. The game has no road maps or side bets since the design is straightforward.
Gameplay
Return-to-Player for Player, Banker, and Tie is 98.76%, 98.94%, and 85.64%. You can play the two main positions: Player and Banker, at the same time by placing baccarat bets for each. If you are unsure of your bets, you want to "Clear Bet" and start all over again, or just press "Deal" if you are happy with your choices. You can change the pace of the game depending on your experience or even the color of the panel. The fast-forward button at the top of the screen is the turbo option that speeds up your game.
Summary
This game is ideal for those looking for a new challenging table game with a simple setting. It is ideal for seasoned and new gamblers, thanks to a practice baccarat mode option that teaches you all you need to know. In the end, this is a game of chance like most others, but the strategy book helps you know how to stay below 9 to win. It may not have all the bells and whistles of other games, but Pragmatic Play has ensured a seamless transition to mobile for the best experience.