Baccarat Pro by NetEnt in Singapore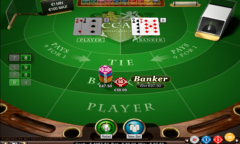 Provider
NetEnt
Min. Bet

1

Max. Bet

100
Baccarat Pro by NetEnt Review
Even though NetEnt released Baccarat Pro in 2011, players from Macau, the US, Europe, Singapore and other parts of the world can't seem to get enough of it. This professional table game features a banker and the player, and its mobile version is designed to work smoothly with all supported operating systems. Because the developer operates no casinos, they are able to solely focus on games for B2B operation, factoring what the market needs and how to stay on top of the game. NetEnt baccarat game has a free version for first-time players or those yet to get the hang of it.
Baccarat Pro by NetEnt Features
The complete name for this table game is Baccarat Professional Series, and it has been a top game since its launch in 2011. It is played with 8 decks of 52 cards, and there are three betting options: Bank, Player, or Tie. The intention is to stay as close to 9 as possible to win. The value of cards on the deck is as follows: 2-9 are worth their face value: Ace is 1: and Queen, Jack, and King are each 10 points. 9 points is natural baccarat and the automatic winner of a round, but anything over that, say 10, is a loss.
The game's RTP is 98.94% for Banker, 98.76% for Player, and 85.64% for Tie. The regular payout for Baccarat Pro is 2:1, but note the banker takes a 5% commission. There is a spanner icon at the bottom of the screen where you can adjust for background music, volume, and audio. You can check the history for the last 10 games with everything, including your winnings. The setting is pretty simple with no roadmaps or sidebets, but the game is quite captivating.
Gameplay
The design is simple, so anyone can find all the game's features on the interface. At the bottom is where you place your bets with chips valued at 1, 5, 10, and 50 euros. Minimum bets are 0.1 euros while the maximum you can bet per round is 1000 euros in either Banker, Tie, or Player. You can bet in all three to make it a maximum 3,000 Euros.
Once you have selected and made your bet, you click "Deal" so that cards are dealt and the winners established. After the round, you can choose a new bet, Rebet, which replicates the previous bet, or Rebet X2 to double the previous bet. Pressing the "Deal" button again activates these settings so that you don't have to place any new bets if you chose the last two options.
Summary
Baccarat Pro is for both novice and seasoned players, so don't let the name fool you. There is s free version for practice that most new players will want to activate before they gamble baccarat for real money. NetEnt has established an easy platform that easily transits from online to mobile gaming without a hitch and using any of the established operating systems.