3D Roulette Online in Singapore
2.0

Loading...
1

gamblers voted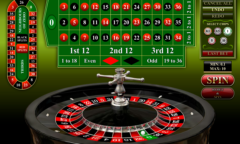 3D Roulette Review
Singaporean players are quite active in online gambling, and most have a taste for Roulette. Like any other game, 3D Roulette depends on luck since when the wheel spins, players cannot dictate where they will land. What makes it a little different and super exciting are the rules and strategies that you can apply to get ahead of the rest. Players wager real money, but sites have the game in free mode too for practice, especially for newbie gamblers. This practice version allows one to soak in some of the strategies and terms used by seasoned players so they can wager some real SGD to win.
3D Roulette Features
The features are similar to the European roulette version, so you have one zero and 36 numbers. The pockets are red and black except for zero that is marked in green. Players get to place Outside and Inside bets as they wish, but luck determines where the ball lands when the croupier closes the floor and spins that wheel.
It gets its name from the animated 3D wheel that is at the center of the game. It is fully automated so that bets are placed online, and the wheel spun the same way. One of the main advantages of this game is the live-gaming experience players get from a 3D wheel that looks as real as what you find at land-based casinos. The colors and music are lively to make up for a great experience that can only be made better by a 97.3% RTP. That makes house edge 2.70%, a reasonable figure that is mainly a result of the single zero on the wheel.
Gameplay
There are ten bet types with different payout ratios and house edge. Straight, Split, Street, and Corner bets have 35:1, 17:1, 11: 1, and 8:1 payout ratios respectively, while Six Line, Column, and Dozen bets pay 5:1, 2:1, and 2:1. Red/Black, High/Low, and Odd/Even bets pay 1:1 each, and they also have the same bet probability. Bet limits for this version of Roulette is S$50 – S$1,000, and the wheel is only spun after the end of wagering has been announced. Once the ball lands on winning combinations, players have their accounts credited, and losers decide whether to place another bet or fold.
Mobile 3D Roulette
You can play 3D Roulette through your iOS or Android and Windows mobile devices because the game has been designed for these devices too. Every feature remains the same way as seen through PCs, and the theme is just as clear through your phone. Unfortunately, there are no download versions yet, but the online options you access through any browser allow you to play roulette for free or real money.
Summary
There is not too much difference between the European version of the game and this one, and so you only need to master one set of rules. There is only one zero, and so the chances of winning are reasonably good. Being as you can play it over the internet, players from all parts of the world, including Singapore can access and play roulette for real money.